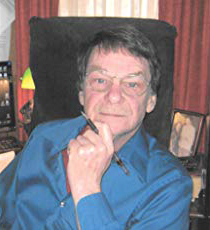 I love writing, especially horror and science fiction.  Ever since I was young, horror stories and movies captivated me.  I love all the B movies I used to go see on Saturday afternoons: Dracula, The Wolf Man, The Creature from the Black Lagoon….all of them.  They eventually inspired me to try my hand at creating my own.  Of course, long ago, way back when, I wasn't very good at it.  I had never intended to make a career of it.  But…
After I lost my job as a virologist because of spinal stenosis and adult-onset muscular dystrophy, I had the chance to revive my writing on a full-time basis.  In 2011, Horror In Words Magazine accepted my first short story, Weeping Willow, for publication.  It was the real beginning.  Since then, I've published 12 works, including 5 full-length novels.  Relic of the Damned achieved FINALIST status in the 2014 Kindle Review Kindle Best Book Awards.  Currently, The Covenant of Wickerswham Hollow is nominated for two awards: The Literary Titan Best Book Award and the Discover Award for horror fiction.
I suppose if I were asked, I'd say my fundamental goals for writing are to entertain, chill, and, possibly, make one stop and think.  Of course, I certainly wouldn't forgo the opportunity of having one or more of my works made into movies.  That would be fun.  But for me, it's about the writing journey itself.  It's exciting to create characters and situations that do not exist in real life and bring them into a reality so vivid and interesting that I actually draw the reader into the story, not just reading it.
Right now, I have 4 works in progress.  I'm just finishing up The Bones of Sarah Golescu, the first book in a new series.  Think of it as a blending of The Man from U.N.C.L.E. and Supernatural. I hope to have it published by early March of this year (2021).
I was born in Philadelphia, Pennsylvania, and now live in Drexel Hill, PA with my wife, Linda, and our German shepherd, Bullet. I served with the Army Medical Corps during Vietnam. I hold a Bachelor's Degree in Microbiology, my Master's work done in Virology. I have worked for several biotech companies as a virologist.
When I'm not writing, I enjoy relaxing in the evening with my wife, listening to music and watching some TV.  I also love a challenging game of Chess.